Staycation - A Taste of Colorado
---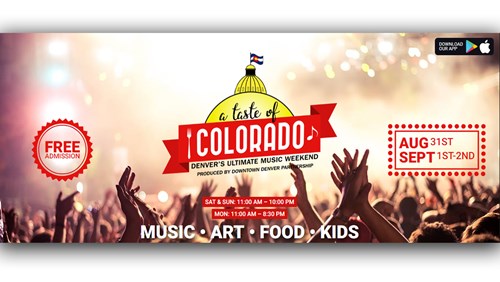 A Taste of Colorado is offering a NEW VIP Concert Experience – Are you looking for a more exclusive festival experience? Enter To Win a 1 DAY VIP Ticket so you can enjoy the weekend in style and ease with a host of special amenities.
As a VIP at the festival, you'll be able to rock out to your favorite bands in style in the private up-close VIP area.  No need to fight your way to the front of the crowd during the concert, you'll easily be able to see everything as a VIP!  Plus, every day of the festival has a different theme so you'll be able to dress for the occasion. Saturday is Classic Rock, Sunday is Country, and Monday is Contemporary.  Simply choose your favorite genre and get your 1-day VIP ticket for that day (or get a VIP pass every day of the festival to enjoy all the amazing bands!). Not only will you be able to dance like no one's watching in the VIP space, but you'll also have access to an exclusive lounge to enjoy drinks and food while hanging out with other VIPs.  Plus, you don't have to deal with public bathrooms, we'll have private indoor bathrooms for our VIPs so they can skip the line and have more time to shop the awesome artists and vendors at the marketplace.
Being a VIP will give you the ultimate music festival experience.  With our exclusive VIP concert and lounging areas, specialty food tastings, and cocktails, you're sure to have a time you'll never forget.  If you're ready to have the time of your life, become a VIP pass holder today!  Getting your VIP pass is just a click away. Simply go to A Taste of Colorado and check out their  VIP online ticketing counter.