Altitude 950AM - VSiN Radio Lineup
---
Altitude Sports Radio 950 AM is now the Home of Vegas Sports and Information Network!
VSiN has over 100 hours of live weekly programming, bringing you the best in sports betting coverage from Las Vegas and sportsbooks across the country.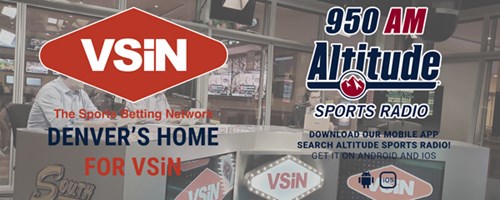 VSiN The Sports Betting Network Show Schedule
NEW VSiN Broadcast Schedule WEEKDAYS (All Times ET)​ 
WEEKEND LINEUP (All Times ET)
SATURDAY:
3 a.m.-10 a.m. Saturday Bet Prep, show replays
SUNDAY:​
In addition to our live stream on VSiN.com, you can also enjoy our shows and full 24/7 access through one our of broadcast partners.