Kreckman and Lindahl Saturday Training Camp - 7/20/19
---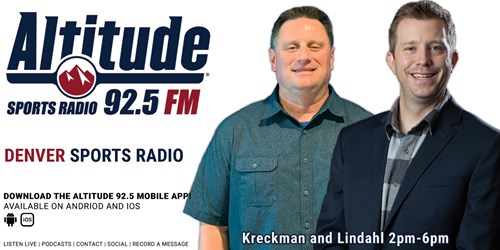 00:00 Nate and Andy are out at Broncos Training Camp breaking down what they've seen so far today.
06:39 Our Broncos insider Jeff Legwold stops by the tent to talk to the guys.
20:31 The Rockies are playing at Yankees Stadium and trail 1-0.
21:09 Vic Fangio BANNED music from training camp.
24:16 Nate is wearing a Yankees shirt at camp today, but don't fret, it's an Adam Ottavino shirsey.
25:19 The Rockies lost 8-2 last night in New York.
29:37 Will Parks just picked off Joe Flacco at practice. Thoughts on the defense this season.
31:07 Could Nate execute an onside kick?
33:04 More on today's Broncos practice.
35:14 Broncos wide receivers keep retiring.
37:26 Garett Bolles sacked Joe Flacco.
38:50 An update on the Rockies/Yankees game: a bad defensive sequence for the Rockies.
43:56 Broncos CB Chris Harris Jr. joins the show live at camp.
53:38 Broncos WR Brendan Langley joins the show live at camp.
58:17 Broncos WR Courtland Sutton joins the show live at camp.
1:03:20 Broncos S Will Parks joins the show live at camp.
1:15:24 Thoughts on some of the comments from the players we just had on the show.
1:26:41 Today is the 50th anniversary of Apollo 11 landing on the moon. Some notes on how astronauts used the bathroom in space.