Altitude Sports Radio 92.5 FM To Debut Moser, Lombardi & Kane Show To Be Simulcasted On Altitude Sports
---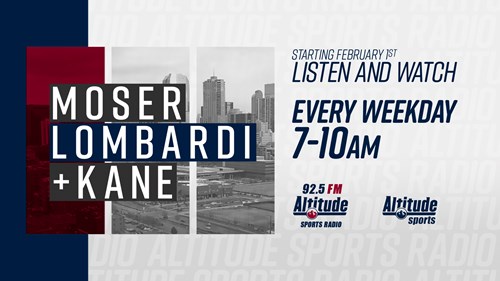 Altitude Sports Radio 92.5 FM To Debut Moser, Lombardi & Kane Show To Be Simulcasted On Altitude Sports
---
DENVER—Altitude Sports Radio 92.5 FM announced today that the Moser, Lombardi & Kane morning show will debut as a TV simulcast on Altitude Sports beginning on Feb. 1, 2021 at 7 a.m. MT. The three-hour live show will air Monday-Friday from 7-10 a.m. MT on Altitude Sports Radio 92.5FM and Altitude Sports.
On weekday mornings, Moser, Lombardi & Kane wake up and entertain Denver sports fans on Altitude Sports Radio 92.5 FM with laughs and high-energy opinions during their fast-paced show that covers the sports stories people are talking about locally in Colorado and nationally.
Vic Lombardi and Marc Moser have covered Colorado sports for over a combined 50 years. 33-time Emmy award winner, Lombardi is the current studio host for the Denver Nuggets on Altitude Sports and has provided years of award-winning sports coverage. Moser is the television play-by-play announcer for the Colorado Avalanche on Altitude Sports. He has been part of the Avalanche broadcasts since 1997 where he spent many years calling games on the radio and hosting after arriving in Denver in 1996. Brett Kane tries to keep Lombardi and Moser in line with his youthful perspective after moving to Denver in 2019 from Lincoln, Nebraska, where he hosted a highly successful afternoon drive radio show and Husker football postgame shows.
Moser, Lombardi & Kane was added to Twitch TV in early 2020 where it became one of the most popular sports shows on the platform. The show already ranks in the top 10 in the world on Twitch's sports category, top five in the country alongside some legendary sports radio stations and is No. 1 in Denver with over four million minutes watched. Success on Twitch TV paved the way for their upcoming radio to TV simulcast on Altitude Sports. Starting Feb. 1 Moser, Lombardi & Kane will be available to their loyal and growing fan base on Altitude Sports Radio 92.5 FM, Altitude Sports and Twitch TV.
Altitude Sports Radio 92.5 FM is Denver's FM station of the Denver Nuggets, Colorado Avalanche, Colorado Rapids and Denver sports talk weekdays 6 a.m. – 6 p.m. MT. For more information, visit AltitudeSportsRadio.com.
Altitude Sports hit the airwaves on September 4, 2004 and is the television home of the Denver Nuggets, Colorado Avalanche, Colorado Rapids and Colorado Mammoth. Altitude's original programming includes Avalanche 360, Nuggets 360, Fantasy Football Hour, Golf @ Altitude and Altitude Extra. Additionally, Altitude Sports broadcasts the Denver Outlaws, University of Denver sports (including hockey, basketball, soccer, volleyball, gymnastics, and lacrosse), as well as other local and regional sports, entertainment and public service programming.
Altitude Sports is continuing to seek a resolution with both Comcast and DISH Network to carry Altitude Sports. Altitude will not stop fighting for our fans. What Comcast and DISH Network wants from us is a deal that would put Altitude out of business and raise prices on our fans – and we won't stand for it. If you would like to speak with Comcast directly, they can be reached at 1-833-253-3725 and DISH Network 1-800-333-3474. At this time, you can find Altitude Sports available on DIRECTV, AT&T TV, Charter Communications and other cable providers in a 10-state region that includes Colorado, Idaho, Kansas, Montana, Nebraska, New Mexico, Nevada, South Dakota, Wyoming and Utah. For additional information on cable and satellite providers in your area, visit www.altitudesports.com/channel-finder/.